The proper lighting can transform your home and make it feel more inviting. Here are 5 landscape lighting ideas to help you create the perfect ambiance for your outdoor spaces.
Front Yard Lighting

The front yard is a significant part of your home. It's the first thing people see when they come to visit you, and it can make or break their impression of you as well. If you want to get the best out of this space, then here are some landscaping lighting ideas that you should consider:
Pathway Lights

A pathway light is a great way to illuminate an area without too much energy. They are also helpful in creating a welcoming atmosphere. You can use them to highlight a walkway or path leading from one room to another. This type of lighting is usually mounted on posts near the path's edge. These lights have a soft glow which makes them ideal for nighttime walks.
Garden Lanterns

Another good option for illuminating pathways and paths is garden lanterns. These lights are designed to be used outdoors and are made with weatherproof materials. They are easy to install and can last up to 10 years if properly maintained.
Landscape Lighting Kits
If you don't have enough time to do everything yourself, why not hire someone who does? Many companies offer landscape lighting kits at affordable prices. All you need to do is choose the size of the equipment you require and leave the rest to the professionals.
Driveway Lighting
When it comes to lighting your driveway, there are many options that you can choose from. The first thing you need to do is determine what kind of lighting will best suit the needs and wants of your home. You may consider installing motion-activated lights, floodlights, or even solar lights. Whatever you decide to go with, remember that these lights must be placed high above the ground so that they won't cast shadows on your driveway. Another great choice is the in-ground low voltage paver lights, a perfect way to add visibility to your driveway and outdoor paths.
The retaining wall lights are the best for those who want to add style and elegance to their home. The lighting fixtures come in various sizes, shapes, and colors that will fit perfectly into any environment. They can be installed anywhere on the wall, including windows, doorways, and fireplaces. Retaining wall lights are available in both indoor and outdoor versions.
Deck Lights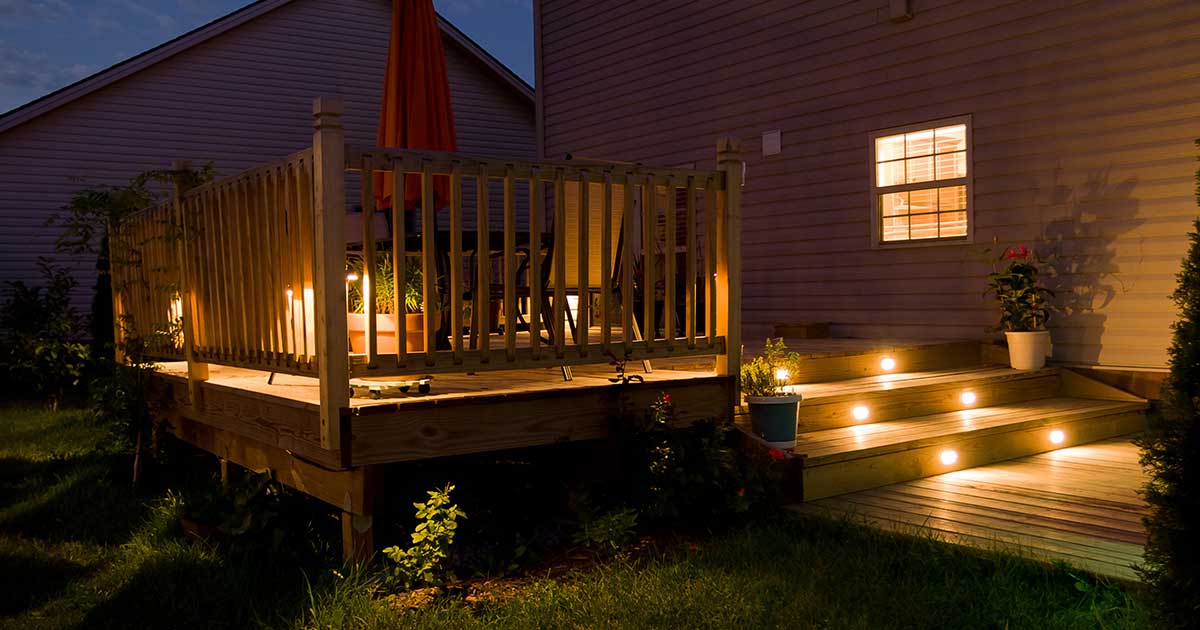 The Deck Lights are the most critical feature of a deck. They provide the best lighting for your deck, and they must be installed correctly to ensure that you get the best performance from them. Lights should be mounted on the underside of decking boards to direct the light onto the surface below. This ensures maximum illumination while keeping the glare off of your furniture.
These are just some of the landscape lighting ideas you can implement in your home. As long as you know how to pick the right products and where to place them, you can create a beautiful and safe environment for you and your family.
Garage Lights

The best garage lights are the ones that you can use in various ways. They should be able to illuminate your car and provide enough light for you to work on it. If you're looking for something more than this, you might want to look into LED Garage Lights. These lights are incredibly bright and powerful, but they only consume about half the electricity compared to traditional bulbs.
You can easily find LED Garage Light online. Just make sure that you buy one tested by independent laboratories to ensure that it meets all safety standards. You can also find them in stores such as Home Depot.

Conclusion: Landscape lights help you walk safely down a flagged path at night, give you a place to spend some time with your family after work and school, and a safe place to play. Outdoor lighting reduces crime and deters burglars. Lighting is an essential for any home, but choosing where to put lights can be difficult. Outdoor lights are a great add-on to any garden, but they can also be expensive and complicated to install.

Don't compromise on safety! It is more important having the outside space well lit rather than just looking good. It will feel a lot safer to navigate. It will give you and your family space for entertainment and relaxation.

Are you trying to decide if you should install new landscape lights yourself or hire lighting professionals?
There are many moving parts to designing and implementing a lighting system. If you want to ensure that the system is working correctly,
contact us
for help! We can help you decide which
outdoor landscape lighting
ideas are best suited for your space, and we can help you choose them without any hassle.